If an alarm was continuously going off and wouldn't stop ringing on your cabinet, what would you do? Was your instant response to just close the sash and hope this will solve the issue? Well, if that's what you thought, trust us, you're not on your own. And in most situations, this approach wouldn't cause any real harm.
That said, if the persistent commotion makes you flustered, you need to remember that you're working with highly infectious specimens or biohazardous materials and you need to keep a cool head. Otherwise, you're almost certain to make the situation worse.
Despite the fact most biological safety cabinets come with best practices and a detailed set of instructions regarding how you should respond to alarms, not everyone has an interest in reading the manual, or even in some cases may not have access to it. In modern times, laboratory equipment, like high tech electricals, is supposed to utilise intuitive features and be as user-friendly as possible.
However, that's not always the case and the training provided can sometimes be inadequate.
Here's an example
Early versions of control panels on fume extraction units like BSCs were very basic, and engineers had to figure out how to do something. Current control panel interfaces are now much easier to understand.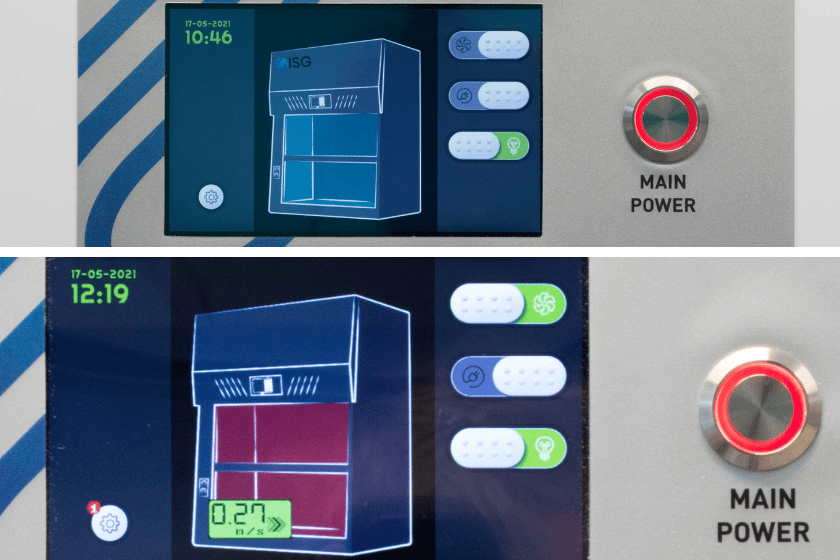 Here at TION, safety comes first. That's why we've also integrated a red light warning system in our biosafety cabinets, fume cupboards and laminar flow cabinets. The traditional warning alarms you find on other units in the market are fine. But we've gone one better, with a warning system that's suitable for any lab technician working with these types of fume extraction units, including those with hearing difficulties.
The inside of the cabinet and the touchscreen control panel turn red, which should instantly alert the operator of the problem, regardless of where they are in the lab, meaning it can be resolved quickly and efficiently, which in turn helps to create a much safer working environment for all.
This is all well and good. But what if the operator still lacks guidance on what to do?
True. There are serious consequences if the technician doesn't respond to the visual and audio alarms quickly and correctly, such as highly significant safety concerns and the loss of valuable substances and samples.
There are several different types of alarms on a BSC. Here's how you should respond to each one:
Sash High Alarm
This type of alarm is pretty easy to manage and is the most common alarm that's triggered in a BSC. An unbalanced airflow velocity will have an increased risk on an operator's safety when working with infectious specimens.
That's why the window sash on a microbiological cabinet must be kept at a specific height, so that airflow balance is maintained. If it doesn't, it will destabilise the precise conditions necessary for experiments conducted in those like cell culture.
If the sash is too high, the user must continuously reach up and down, meaning there is an increased chance of handling errors and therefore, contamination of materials.
Airflow Alarms (Inflow / Downflow)
This alarm monitors the state of airflow throughout the cabinet, as fume hoods and biological safety cabinets need specific airflows to function correctly.
It measures and monitors airflow velocity within a duct or a canopy. The alarm's job is to alert the user to any drops in velocity. If it drops below the predetermined setpoint, which has been defined by the operator, the alarm will sound.
Whether you're operating or certifying a direct connected or canopy connected BSC, it is a legal requirement that your unit has an airflow alarm installed.
5 quick safety tips from the experts at TION
Greg Shotliff, Fume Extraction Specialist, thinks that any recommendations or advice should always be given to operators in clear, simple and to the point guidelines, in a similar way that a driving instructor would tell their learner driver to 'steer into the skid' if they were in a situation where they oversteered.
So, here are five easy pieces of advice to follow and remember from Greg that will ensure your safety when operating a biosafety cabinet:
Do not panic.
Cover any exposed chemicals and materials.
Secure the workspace, steadily pull your hand away and close the sash.
Remove your gloves.
Calmly move away from the BSC and wash your hands.
For more information on how to ensure you are using your biosafety cabinet correctly, contact us today.